/
/
Some of my travel advice for a solo trip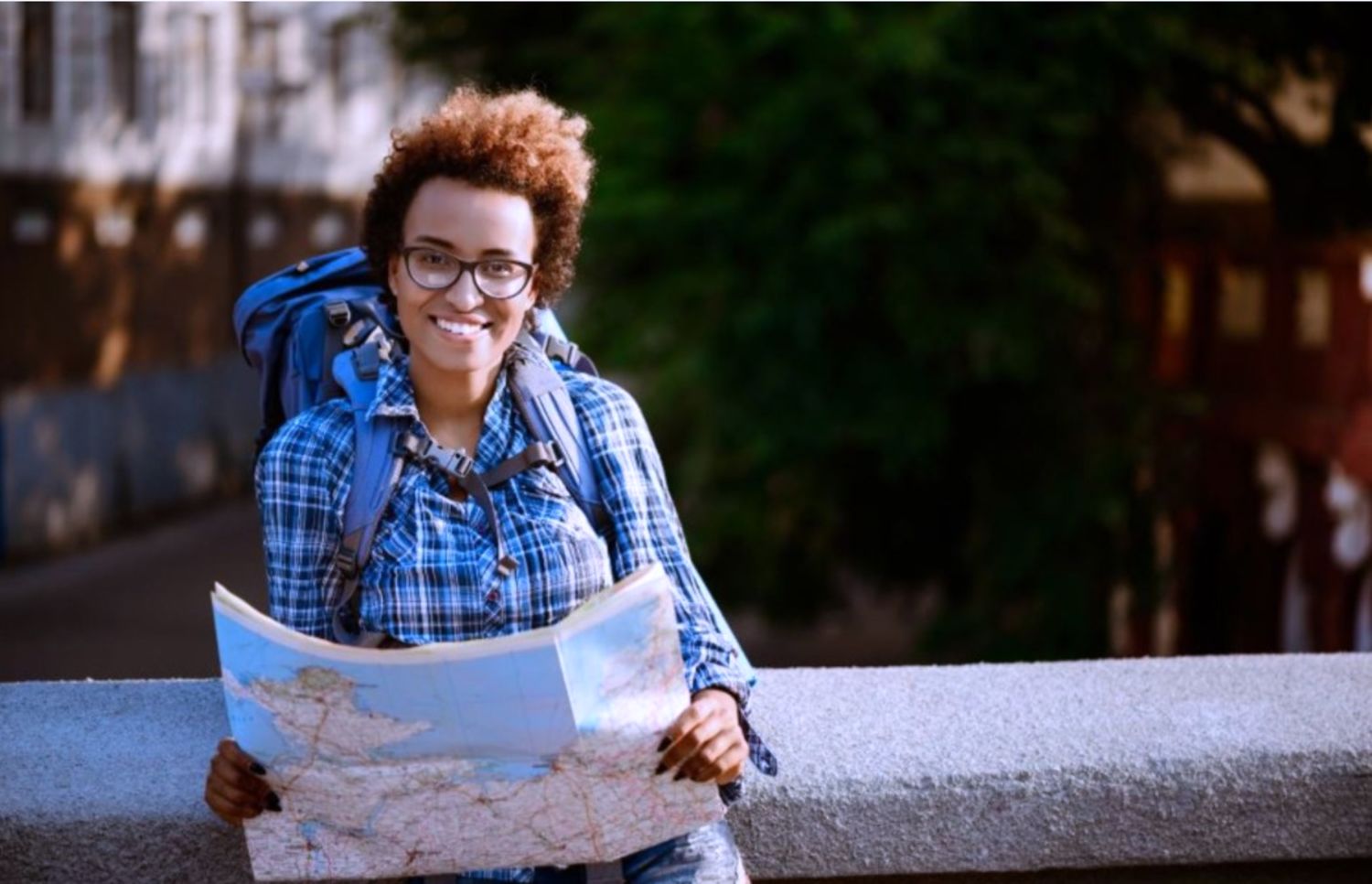 Can you smell that delicious travel scent?
That's because I'm back in my kitchen of advice for female solo travelers.
I'm all dressed up: I've put my chef's hat back on, preheated the oven and washed my hands (don't forget the social distance, even virtually!) Everything is ready so that I can concoct some good homemade tips for you.
Today, I'm offering you a special recipe for a main course... Indeed, after you've had a taste of the
preparations for a solo trip
, it's time to get down to the heart of the matter, i.e. how the trip will go once you're there. 
It's all well and good to be prepared to leave, but if you don't know how to manage your holiday when you're there, things can quickly turn sour.
We'll keep the mustard out of your face by checking together point by point all the things to watch out for during a trip, especially when you're alone.
So I'm going to share with you some of my travel advice for a solo trip... Everything you need to stay cool as a cucumber.
1. Some of my travel advice for a solo trip: check the expiry date of your transport
It would be a shame if you were to travel with poor quality transport.
When you travel on your own, since you only depend on yourself, you quickly want to visit and to see everything: and you end up walking from one side to the other of the chosen region.
Yes, but to get around, you have to go through the transport box. Whether it's a local train, a bus, a metro, or
by hitchhiking
... Be careful with the means of transportation you choose. 
Just because the train seems very affordable doesn't mean you have to rush to the station. Sometimes, if you look around, you can quickly find cheaper or faster alternatives. My first piece of advice is to check out all the means of transport available to you once you get there. 
Nowadays, it is particularly easy to compare the different means of transport with just a few clicks. There are applications available to offer you several alternatives for the same itinerary (I'm thinking in particular of
Tictactrip
, Google maps,
Omio
...) Take the time to check which solution seems the most suitable for you.
If you're not in a hurry, then favour the price. If, on the other hand, you are subject to certain requirements (check-in at the hotel, guided tour, plane to take) then look for the quickest solution. You can even ask a local for advice: he will be able to guide you to the means that best suit your needs. 
Furthermore, you should think carefully about the context before choosing a means of transport. For example, if you are in China and you cannot read Mandarin, taking the metro can be more time-consuming than getting into a taxi and getting stuck in traffic. Looking for directions with illegible signs, believe me from my experience in Japan, it can quickly become a Chinese puzzle...
In Vietnam on the other hand, I had opted for a taxi, without taking into account the opportunism of the driver who made a 10km diversion to increase the final cost. I bitterly regretted the bus!
In fact, transport is kind of the central nerve of travel: we often think that it is secondary whereas in the end, the quality of the stay depends on it. I would like to share an emotional thought with all the foreigners who visit France during the SNCF strike. It must be a real… French puzzle.
If you miss the bus or the train you had chosen, don't panic! You can always call Uber, a tuk-tuk or even rent a bike. And to make sure you never lose your way, Maps.me is an excellent application that allows you to download maps in advance: that way, once you're there, you don't need to have access to the internet to check your location.
There are many solutions to travel during your stay... It's up to you to choose yours to go on your own, especially if you are
planning a road trip
. After all, every transport we choose reflects a little bit of who we are.
2. Please keep an eye out!
You don't play with knives when you cook, do you? 

Well, when you go solo, it's the same thing: you avoid putting your life in danger... As in your everyday life, in fact.
What do you do in your everyday life to avoid dying? You look before crossing, you fasten your seatbelt, you wait for the light to turn green (well, I admit that I don't always do that)...
All this to say that fundamentally, when we travel, the risks are the same as in our daily life, whether we are alone or not.
So, are you ready to
become today's globetrotter
? Indiana Jones, it's time to leave some space to ladies.
However, I grant you that when we go solo, there are a few extra precautions we can take to reassure ourselves. 

For example, take a picture of the plate number of a taxi or car before getting into it, send a message to a trusted relative regularly to indicate that you are safe and that he or she doesn't have to worry, ask the locals which neighbourhoods to avoid so as not to find yourself in a bad situation...
When you don't know your destination, it is indeed possible to put in place some tools to limit the different risks to which you can be subjected, especially as a woman. 

But I can reassure you right away: being a female solo traveller is much less dangerous than you might think.
Homesharing is an excellent way to feel reassured. 

What could be better than a safe place to spend the night? 

What's more, it's an easy way to meet people. Staying at a local woman's home is a bit like wearing a seatbelt for the trip: you are protected while enjoying the scenery that unfolds at the whim of the driver with whom you discuss the time of the trip. 
3. You can incorporate the visits as you wish
The best solo trip is the one you enjoy the most. 
For example, I dream of going alone to Myanmar to visit temples. 

I would also rent scooters to go into the hinterland, talk with local farmers and get lost in the rice fields where I would take beautiful pictures. 

I would then put them as wallpaper on my computer screen to travel every time I go to work, especially on Monday mornings when it rains and the coffee machine is broken... 

Oh excuse me, I let myself go a bit too far. 
What I mean by this picture is that there is no ideal solo trip: it's up to you to compose your own. 

If you have a schedule to follow beforehand, you can also let yourself be carried along during your stay according to your desires and your moods (and according to the taxi that will take you there and its 10km diversion...).
It is very important to listen to yourself when you go on a solo trip.  If you are feeling feverish, don't hesitate to take the time to rest, no matter what you had planned. 

That's what I love about travelling alone: I can do whatever I like.
Likewise, if the weather prevents you from visiting, you can choose what you will do instead.

You will certainly say to me, "But what is the point of having a travel plan then?" 

I'm not saying that the planning you've organised beforehand is useless, on the contrary: it gives an excellent overview of everything you can do on the spot.
But it's not absolute: you can allow yourself some freedom as you go along. Like the time when, during my solo trip to Germany, I met a Finnish girl with whom I went to Rome on a whim.
Well, maybe that's a bit extreme as an example, but I can assure you that in any case I spent an incredible weekend in her company!
Going alone or with traveling buddies
are really two different experiences... 
We're halfway through my travel advice and this one is particularly important: you just have to follow your own pace.
4. Stop to taste what you do
I have been talking about cooking in the figurative sense, but here, I will take the literal sense.
The place of food in travel is wrongly underestimated. 

For a long time, I thought that the most important thing was to explore the heritage and discover the local culture, without thinking that cooking was an integral part of it... 

And then I went to Vietnam and got sick for 3 days. There I realised that the local cuisine was also important.
I'm joking, but not so much either. 

If these few days of convalescence were a bit difficult, I don't regret for a moment that I was able to taste the charms of the local specialities in small "boui-boui" (local restaurant). 
So obviously, health above all: don't go and taste everything without paying a minimum attention to the hygiene of the restaurant or the content of the dish. 
But also be a little open to the different (more or less) gastronomic choices you will find. 

Exotic flavours, local spices, the typicalities of the region offer a range of delicacies that often take you as far away from home as the surrounding landscape. 
And the good news is that if you ever get sick, you are sure to have a stomach ready for what's next. Personally, the gargantuan Christmas meals don't scare me anymore!
The restaurant is also a special environment beyond the cuisine it offers. If you choose it well, you can have the impression of blending in with the locals. It's all the easier when you travel alone.
I remember the small restaurant in Kyoto where I tasted a good broth with ramens. I was the only foreigner: I can guarantee you that between the smiles of the locals who saw me struggling with my chopsticks and the laughter of the waiters who explained to me how the (very technological) water dispenser worked, I had quite a meal!
One of my travel advice for a solo trip is to take the time to taste the destination. 

The local cuisine is like a journey within the journey, a delicious interlude that can be savoured on its own and leaves you with beautiful memories.
5. Adapt the recipe if you don't have a bean
This is one of the most delicate steps.
It is quite difficult, once there, to resist the call of all these good meals, all these beautiful activities that we had not necessarily planned when we were away from temptations, quietly at home.
But if you have a really limited budget, then it's better to be careful with your expenses... So you won't have to break your piggy bank and find yourself in the red once back home.
I let Amélie, an expert in financial control, share with you one of her travel advice for a solo trip:
"When I travel alone, it's true that I'm quickly tempted to spend a little more than I set out to do in my preparations. 
To avoid doing anything foolish, I write down, in a notebook that I keep up to date every evening, my various expenses of the day in the local currency but also in mine.
This allows me to keep track of my purchases from day to day and above all to understand the value of the money on the spot... Often, when the currencies are too different, I don't realise how much I spend and then when I convert, I understand what it represents. In fact, it prevents me from being fooled by the rates!
The notebook method is great for me. I can adapt each day according to the previous day's expenses. For example, if one day I go over my budget, I know that the next day I'll have to be more careful to stay within my budget. On the other hand, if at the end of my stay I still have a bit of margin, I can enjoy myself a little more.
I think there are applications to keep track of your expenses...
Bankin'
or
Tricount
, I have friends who use these two.
Otherwise, more generally speaking, I try to do home sharing as often as possible. Not only does it allow me to meet great people, but it also saves me a lot of money... And now I can enjoy myself and enjoy the rest!".
The choice of destination is also important. In Saint-Tropez, you are bound to spend more than in Moret-sur-Loing...
What, you don't know Moret-sur-Loing?
What about Marsannay-la-Côte?
These are all great,
cheap destinations in France
. Just saying.
6. Yummy, what a delight: you can share it with your friends and family
When it comes to food, I can be selfish (no one touches my chocolate!) as much as I like to be generous when I go on a solo trip.
Offering a few souvenirs to my loved ones is like sharing a bit of my trip with them, showing them that in a way they have accompanied me even if they stayed at home. 

And then, who said that presents were only for Christmas or birthdays? 
Little surprises from time to time, it always pleases and often even more to the one who gives than to the one who receives.
But beware! 

On the other hand, only Santa Claus can carry thousands of presents on his sleigh around the globe. 

For the rest of us, transport is often limited in terms of weight or quantity. If you take a plane, you have to weigh your suitcase; if you get on a train, you can't always carry too many bags. 
And that's where the pleasure of giving becomes a real logistical calculation. "If I take this cup from my brother, I don't have room for my goddaughter's cakes... Oh and the bag for grandma!" 

In short, it becomes a game of tetris (you know, the video game where the bricks fit into each other). 
So you should always keep in mind the size of your travel bag and try not to overload your stuff when you leave so that you always have a little space available.
Believe me,
going around Mexico with just a 7kg backpack
is really possible!
A trick which is among my travel advice and which can avoid many diplomatic incidents... Especially if you want to bring presents to everyone. 
It is also preferable that the gifts themselves are small. Spice and tea bags, postcards, cloth bags, foldable objects such as fans, small notebooks... 

There are many beautiful gifts to make that can easily fit in a backpack, even when you think you don't have much room.
In any case, it is not the size that counts (I am talking about the gift of course...).
Tada!
Some of my travel advice for a solo trip served on its silver platter. Small tips to keep in mind during the trip to ensure a consistent organization. 
I don't know about you, but it hasn't filled me up, on the contrary: I can't wait to travel solo again... My mouth is already watering.
Do you know what that means? Yes: I will soon have to share with you a new recipe for solo travelers to compensate for my hunger. 
Seems like I'm about to become a Big Cheese in the travel advice industry… Isn't it just perfect, as in the next episode, I'm gonna double the sauce.
BUDGET
|

FOOD

|

TRAVEL

The editorial team:

Whether you are an avid traveller or a first-time adventurer, all NomadSister editors are passionate about travel. They share their advice and experiences with the desire to give you wings!

Who are we?