/
/
The 10 commandments of home sharing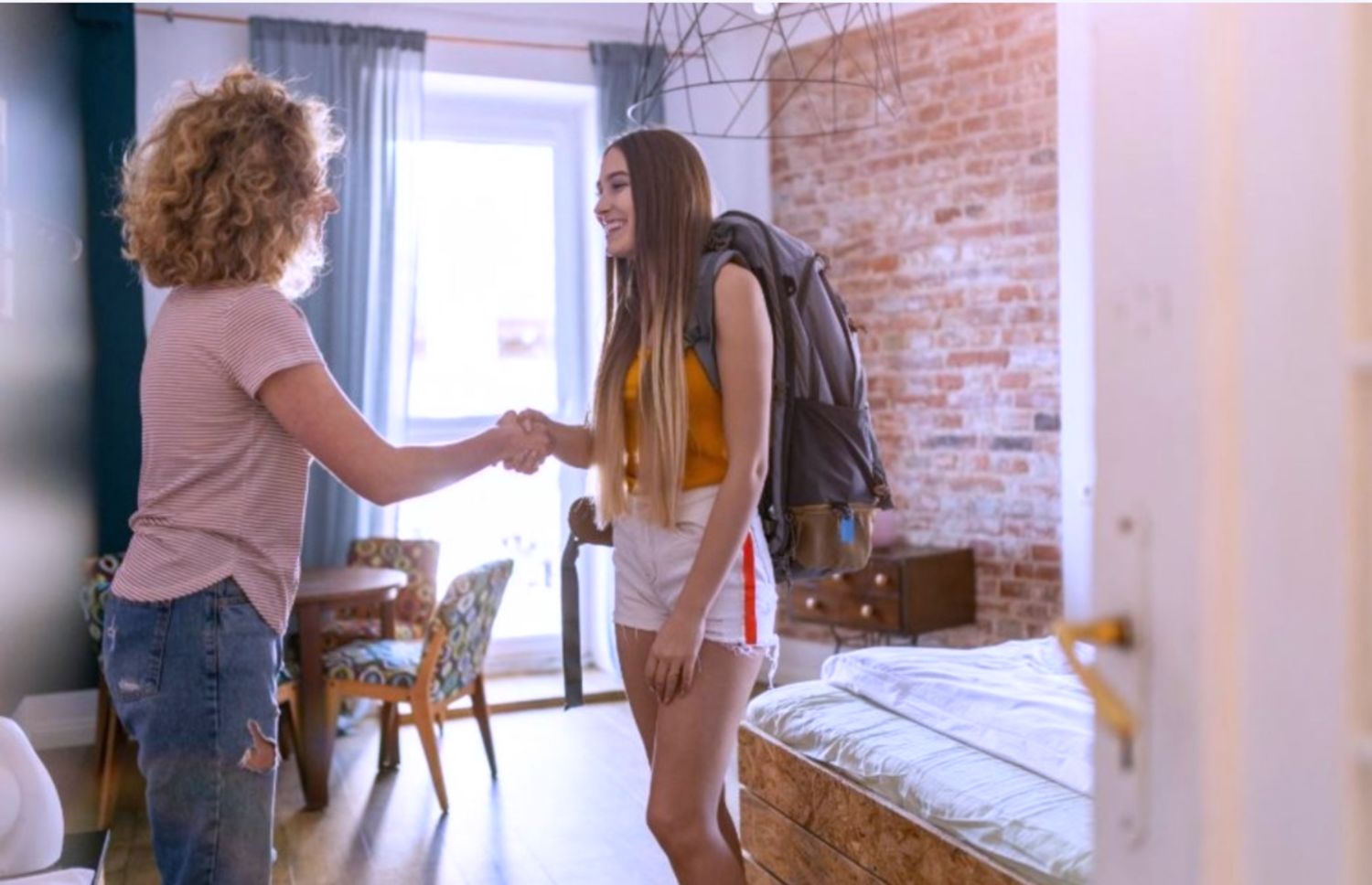 You have been convinced by the
good reasons to go on a solo trip
and have finally found the couchsurfing platform that suits you best. After having planned everything, you are determined to go on this trip.
With a well-packed backpack and a perfect road trip itinerary , all you have to do is leave. But on the doorstep, you suddenly have doubts about your agreement with your host.
To make it easier, Hermès god of travel prepared you a few commandments that you can put in place to ensure a hassle-free stay.
1) To practice home sharing, your safety first and foremost
Of course, a trip can be a bit of a hassle. When you try home sharing, especially if you are a woman, it is advisable to be careful. Some profiles can be badly filled in, misleading and indicating a location that is not the right one or a different condition from the truth (a host living alone and not with his family,...). When we discover that the information is not the same as those given, whether on purpose or not, we do not feel very comfortable.
Why did the person lie to us? What are their intentions? It is easy to get confused, to feel taken advantage of and to imagine the worst for the future. Don't start thinking of a strategy as Athena herself but take advantage of her wisdom. The best thing to do is to have a plan B and avoid ending up in
Sylvie's situation
. Otherwise, make sure that your host is a trusted person found on a
secure website
, such as
La Voyageuse
for example, or find ONE host to make you feel even safer.
2) You will not judge your host
You don't like her decoration, she's too old-fashioned, for sure the tasteless godess camed by… oh dear, she puts milk before cereal and, what? She wets her toothbrush after having put her toothpaste on it... It's not your habit, but it's hers. We don't ask you to do as she does, but to respect her morals and her tastes. She doesn't cook her pasta like you do? Observe, you may learn new recipes. 
Share your habits to understand hers and be open-minded, but these are just a few solo trip tips I can to yours. As for your opinions, don't be too fixed, try to hear why your host thinks differently and discuss with her rather than judging her thinking.
Perhaps your Japanese host is sticking her chopsticks in her dish for a particular reason, which she will be happy to share with you if you ask why. When you choose to do home sharing, friendly talking always ends up bringing up original answers. If you are intrigued by your host and her habits, she is certainly just as intrigued by you. 
For example, Laure, a traveller with whom I was able to exchange ideas, was surprised to find a bidet in the house of her Italian host and was even able to debate about it when she asked her about the usefulness of the thing. Unusual, isn't it? But all the more authentic! 
Poseidon himself was amazed, however, god of the sea sounds better than god the bidet.


3) Keep your things tidy
When you choose to do home sharing, you should not get too comfortable. A sock here, a pair of panties there, your host may not appreciate having your belongings lying around her super-neat house. If you have your own room, it's best to keep everything inside. Try to keep your belongings in your bag when you leave during the day so that your host doesn't faint thinking that a fury just messed up the room.
Worse, if your host is not very organised herself, and you start to scatter, you're likely to forget half of your belongings when you leave. To prevent this from happening to you, remember these
tips to organise your first solo trip
and check your list of things you'll take with you. So, as Hestia, keep the home tidy and caring, you'll thank yourself even more.
4) Don't think you are at the hotel
Remember, you are in someone's home,
homesharing is not being in a hotel
, it is important to respect it. Coming home at all hours; after spending the night drinking wine with Dionysos and celebrating with strangers; with your shoes full of dirt and making noise as if you were completely alone. It may not be the best idea to get along with your host. Yes, it is important to respect the house but also to remember that the host lives there with you.
If you make her regret having taken you in, the stay will be less pleasant for both of you and her. If you choose to do home sharing, discussing their lifestyle when you arrive will allow you to find out if your host has any particular rules.
Everyone is different, so it's important to talk about it. Perhaps, one of your hosts will want to share all their meals with you, while another, will be unavailable and leave you to cope on your own. There are a lot of things that are unique to the host, so it is important to find out about them when you arrive so that the stay is as comfortable as possible for everyone. If someone shared your daily life you would want them to do the same, wouldn't you?
5) You will adapt to the habits and customs
Adapting to a host also means adapting to her lifestyle and potentially to her customs. 
Internationally, or even if you are travelling in your own country, your host will surely have local traditions that she will be happy to introduce you to. Perhaps, she gets up very early to do tai chi in front of the beautiful rising sun pulled by Apollon on his chariot. If you choose to follow her lifestyle, you are sure to feel culturally disoriented. For her part, she will certainly be happy to share these moments with you and see that you appreciate them. 
During one of my travels, for example, I was able to discover one of the habits of the family I was staying with. Every evening, before the meal we all had together, everyone would tell something they had done, seen, or heard during the day that had put them in a good mood.
It seemed a bit strange at first, but after a gloomy day, I understood. The goal was that, by sharing a little moment of joy with everyone, we all end up feeling good and that we spend a meal in a good mood to start a new day on the right foot. This seemed very symbolic for them and their family was full of joy.
6) You'll respect the meal and the gifts offered
Speaking of sharing a meal, this is an important step when you decide to do home sharing. Of course, some people may not have the time or desire to eat with you. But, usually you always end up sharing a meal.
Often it will be a typical local dish that your host will have taken a long time to prepare, with all her heart and will. So, as not to offend her, unless you have a sudden allergy, you will have no choice but to try it. Remember that it took her a long time to cook.

If you were preparing one of your specialties, you wouldn't want your guest to refuse even one bite. You may be surprised by a dish that you don't trust at first, but which is nevertheless tasty. In return, you can of course let them taste one of the specialities of your region. 
More generally, beyond the meal, it is important to be well aware of local habits and customs and to accept, with many thanks, the potential gifts that you will be offered. Though, do not expect a horn of plenty, generosity has its limits.
As an example concerning the meal, in the Maghreb, finishing your meal is a sign that you are still hungry. So don't be surprised to see your plate full of food come back when you have already eaten enough. To stop this cycle and avoid having your 36th plate of the evening brought back, leave some food on it. That way the locals will be happy and know that you are not hungry anymore.
7) You will offer your help to the host
Clean your room before you leave, do the dishes or prepare a meal, for sure, Briarée and his 100 arms would be useful to go faster. You're taking advantage of
free accomodation
so, all these little things that seem to be nothing are nevertheless noticed by the guests. Most of them will thank you for the help you have given them and will remember this caring side of you. 
Discovering this aspect of you full of attention, some guests who will be suspicious at first sight could become more welcoming and make you discover their region according to their vision. One helping hand always leads to another!
It is, after all, quite simple to help with a few tasks for having in return, a room and often even food. Perhaps you will create a new friendship between you and your host and enjoy your stay all the more.
8) Your privacy and modesty you will preserve
This is very much dependent on people, countries and cultures. Generally speaking, modesty is encouraged when you decide to do home sharing. Perhaps you are used to walking around your house in a towel in search of your outfit for the day.
However, in many people this will be very badly perceived. So keep your Aphrodite outfit for you and preserve a part of mystery. Don't see it as a
disadvantage of couchsurfing
but as part of the adventure.
If you're going to take a shower, take a change of clothes in the bathroom, or at least something to cover yourself with when you come out of the bathroom if you haven't yet decided what colour shirt you're going to wear that day (Luella Bartley, goddess of the fashionistas, help me please).
Also, when you go out, pay attention to the dress code of the locals. Wearing a skirt may seem trivial to you, but in certain regions, places, or on certain occasions, it can be seen in a bad way. 
9) You will be alert to sensitive subjects discussed
You are generously hosted by your host. Therefore, avoid mentioning too much about your situation, whether you are comfortable or not. Globally, throughout the world, money can be taboo. That said, many other subjects may seem trivial to you but are prohibited by the person you are staying with or even in the whole country. 
Be aware of the discussions to avoid, you do not know the person and you do not know how they may react. So if you want to discuss with your host a subject that you think might be sensitive, make sure that it does not make them feel uncomfortable before you bring it up, to not petrify her as if she had met Medusa's eyes. 
As far as money is concerned, not talking about it doesn't mean that you can't offer something in return to thank your host, a gift you've bought or even a recipe from your region ;). 
Sarah who travelled to Morocco shared this with me:
"At the time, I was young and had little income and few possessions, but to see that this family who owned so few possessions had generously welcomed me and was even about to share their meal with me, it really moved me.
Even though I had very little food left, I didn't hesitate for a second to share it with them as a thank you. In addition to this exchange, I also wanted to offer a bracelet that I had on my wrist to their youngest child who seemed to appreciate it very much. It was a real life lesson and I am delighted to have been able to share even one evening with them."
10) You will be autonomous
When we do home sharing, everything is not due to us. The accommodation is generously provided for us, but that doesn't mean that everything inside belongs to us. 

Depending on what has been agreed with our host before our arrival, she may not provide us with sheets, food and we may not even have access to the fridge. That's why we have to be prepared to make our own arrangements, whether it's for food, transport or climbing Mount Olympus. 
Many guests will want to share their knowledge of the region with you and will even take you on a tour. But that doesn't mean you should expect them all to do so. Some of them don't have the time, but still offer you a place to stay. So make the most of what you have! 
Here, no prophecy, each stay is unique. If you follow these few commandments, are open-minded and keep this love of sharing, you will come out of it stronger. 
Meet new people, talk with them and enjoy everything they have to offer you, to tell you, each adventure changes you a little more. New acquaintances, new topics of discussion, you will make mistakes, your trip will never be perfect or will not be totally as you thought it would be. 
In the end, it's even better, letting yourself be surprised by the ups and downs of the trip only makes it more authentic, you can thank Hermès for his good advice. So enjoy your trip, because everyone has an end (well, until the next one). 
Now all you have to do is
find a host
in the destination of your choice!
ADVENTURE
|

LIFESTYLE

|

TRAVEL

The editorial team:

Whether you are an avid traveller or a first-time adventurer, all NomadSister editors are passionate about travel. They share their advice and experiences with the desire to give you wings!

Who are we?