/
/
The 7 good reasons to go on a solo holiday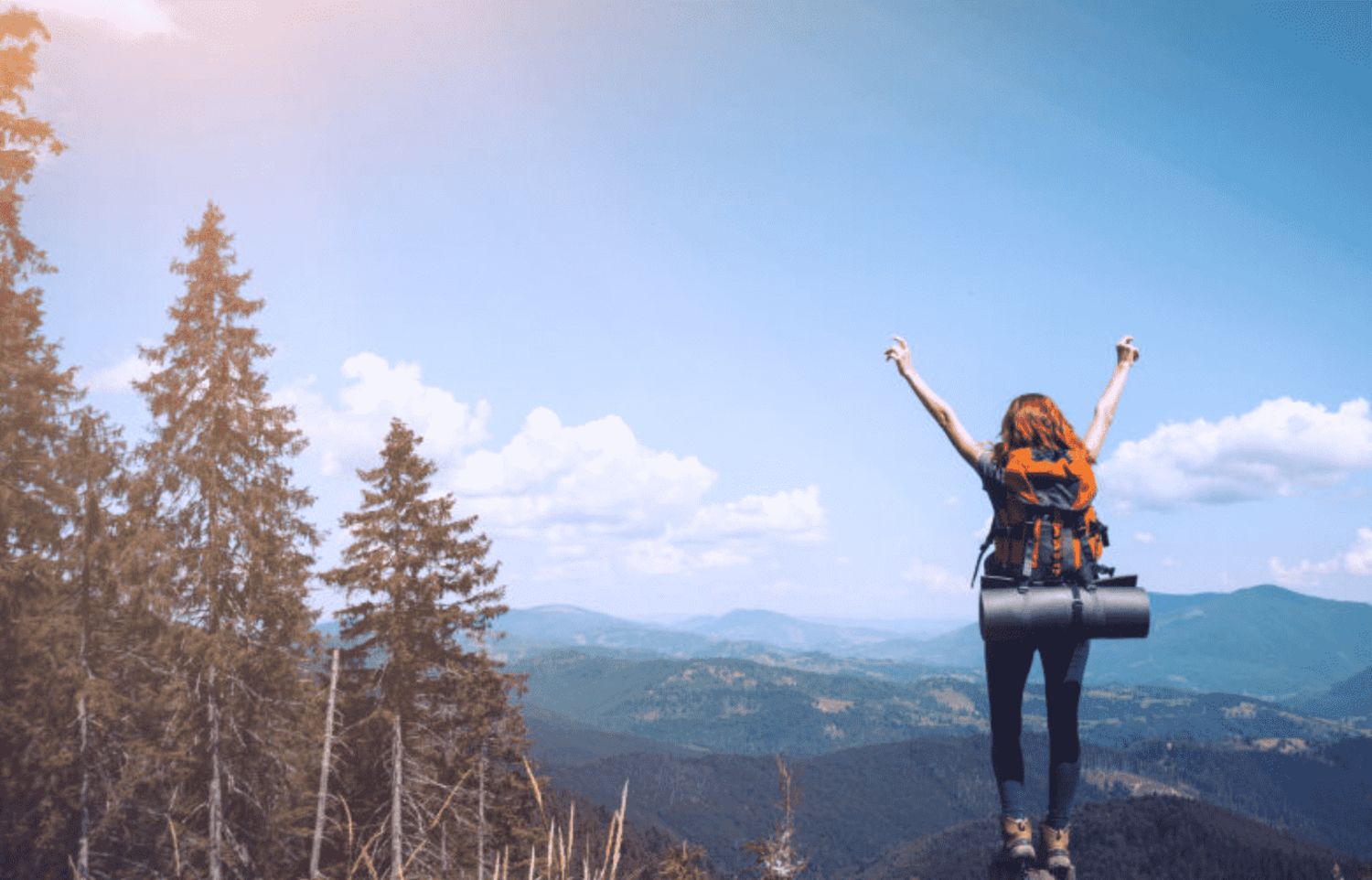 Going on a solo holiday, an expression that has certainly already made you dream. 

A getaway, an escape, an emancipation which, sometimes, can be necessary to (re)build yourself. 

Raise the sail to think, gain height to untie from daily life. 

Of course, it can be complicated to jump in the water or to climb this mountain, because fear, apprehension and doubts are omnipresent, especially when you are a woman. 

Your sister worries about you, your children don't understand you, your parents dissuade you. 
Perhaps you are even personally worried about going on a solo holiday.
Nothing could be more understandable. 

Going out of your comfort zone, even when you have already experienced it, remains a difficult exercise for all of us, and you never really know what to expect beyond your own limits. 

This is probably why you have been looking for this text. A comfort, a motivation, a good reason to start this project that frightens you. 
What if I told you that you have already taken a step forward by consulting this article ?
After all, it is a first step to realise your project : you have decided to take a serious look at it and to look for that inspiration you are missing. 
That's how all great dreams come true: make a start. 
This is your start, your boat to raise the sail and throw yourself into the water, your first step to gain height and climb that mountain. 
1. Going on a solo holiday : more than a leisure activity, an act of emancipation
Going on holiday alone, especially when you are a woman, is a real form of emancipation. 

It doesn't matter where you go: you only depend on yourself. A freedom of choice, a freedom of movement, a total freedom which is rarely accessible to us in our daily lives.
As women, we depend on many external factors.

On our work, which keeps us busy all day long, "I have to complete this dossier by tomorrow!"; on our family, which revolves around our presence "Mom, what are we eating tonight?"; in our society, which requires an image to respect "The holidays are approaching, but thanks to this revolutionary method, you won't gain a kilo." 

We depend on the gaze of the others, on their opinions, on their comments. Each day is punctuated by a set of factors that prevent us from evolving fully by ourselves.
Going on a solo holiday is a profoundly liberating and revolutionary act: during the time we give ourselves, we no longer owe anything to anyone and we can finally enjoy a total autonomy. It's one of the
5 reasons that push us to go on solo trips.
Taking the direction we want, managing all situations in our own way, deciding for ourselves without any influence. 
A lightweight parenthesis in a life where we often feel under pressure, held by different imperatives which are even more strict for women still today subject to too many codes.
"Freedom is one of the most precious gifts that the heavens gave to men" wrote Cervantes.

A precursory quotation of a freedom that is even more invaluable for us, women. 

If you agree on that, why not giving that freedom to women by offering them your home for a night during their journey ?


Sharing your home for a night is the best way to help women's empowerment.
2. Travelling alone to boost your potential
Yes, we are perfectly able to find our way around on our own. 
Yes, we can reach our destination without someone guiding us. 
Yes, we can find a solution without calling for help. 
When you go on a solo holiday, you become aware you can manage anything and cope with any situation without help. 

What could be more rewarding than succeeding on your own?
While in our everyday life we hesitate, we don't dare, we restrict ourselves, on a solo holiday we finally become aware of our full potential. What about discovering
which type of adventurer you are
to have a first impression?
When you get back home, you are stronger. 

You will no longer be afraid to trust yourself and to embrace your next projects : you will know your true worth, much higher than the esteem you had before. 

Of course, you will not be indestructible - but you will understand that you can also assert yourself... like a man. 
You are brave, and you will prove it to yourself. 
3. Go on a solo holiday... And come back with friends
A paradox? 

Yet, when you go on a solo holiday, the opportunities to meet, share and exchange with locals or other travellers are greater.
Indeed, it turns out that on a solo holiday, you're not going to be as lonely as you think.
Loneliness will help you to meet others, whereas on a trip with friends, you will tend to isolate yourself with your partner... This is what I've experienced while
going on a trip with travel buddies.
In the restaurant you will have time to make a conversation with the waiter, in the shop you can chat with the craftsman... You can even talk with other travellers along the way, and advise them on itineraries and must-do visits. 
At La Voyageuse, solo female travellers can have the opportunity to meet female hosts with whom they can share a piece of their holiday, to exchange a little bit of humanity, kindness and authenticity. 
Travelling alone is not about facing a heavy loneliness as one might think. It is even the opposite: exploring and meeting, exchanging and sharing. 
4. Let who you really are express itself
It is not only the world you will explore on a solo holiday: you will (re)discover yourself. 

A solo trip is not just a succession of visits: it is also an introspection. 

You will have time to get to know yourself, and by that I mean the real you, the one who doesn't always show up to others, the one you often put aside to better adapt to your environment.
I remember my trip to Japan (I lived many
unexpected events on my way to travel the world
), where I was terrified by the idea of having to find my way in the maze of the Osaka metro, indicated exclusively in Japanese... I had often heard that women had no sense of direction. 
In the end, I managed to find the right way: and I didn't get lost once. 
I became aware that I have always had this resourcefulness in me, but that I have simply never had the opportunity to exploit it. 
Why is that? 
Because in my daily life my father, boyfriend or friends have always tended to impose themselves without letting me handle anything.
I sincerely believe that human beings are constantly evolving: everyone changes. 

But when you go on a solo holiday, you are confronted to so many new situations that you grow up and change even more quickly. 

You never come back completely the same from a solo trip, even for a short period of time.  

For my part, I came back from my holiday with a brand new self-confidence. 
I know that I am much better at orientation than I thought I was, and much more resourceful. 
I feel like I have grown up, from a girl who was bad at geography to a young woman with an excellent sense of direction, in just ten days.


5. Immerse yourself in the destination
Going on a solo holiday is the perfect way to become one with your destination. 

A solo stroll through the city streets, a quiet hike in the mountains, it's all about you and the place. 

No external element that can disconnect you from your contemplation, no disruptive element in your immersion.
Going on a solo holiday means being able to immerse yourself in the destination, just as you would immerse yourself in a good hot bath.
You'll agree: it's difficult for two people to get into a bathtub... And you enjoy it much more when you're alone.
A destination is the same thing. It's easier to slip into it when you're alone, because you can take full advantage of the space around you and soak it up. Better to prepare it anyway: that's why there are
10 tips to organise your first solo travel.
Travelling alone is an opportunity to fully integrate: meeting the locals, sleeping at their homes, or simply exchanging ideas to better understand their world. 

We get out of our everyday life to penetrate the others routines: a change that allows us to explore other stimulating habits and settings. 

When I was sixteen, I went alone to Italy, where I met a wonderful young girl. She later introduced me to her region, the Como Lake, through her own eyes, her own habits, her own daily life. An immersion in her home region that blended me into the scenery. Her region gradually became mine... And little by little, Como Lake became my own warm bath.
6. A tailor-made pleasure
Going on holiday on your own is a freedom, a journey without constraints: you will be able to organise your program according to your own wishes. 

No sacrifice to please your friend, no compromise to satisfy your son. 
We have already mentioned it: you will feel free, but not only because you are independent.
You will be able to program your visits according to your own interests, and then organise a stay that suits you.
A 100% personalised holiday, in accordance with your own expectations.
The destination depends only on your dreams (
where to go travelling alone?
You can find the perfect destination for you); the itinerary, only on your preferences; the flavours, only on what you like. 
Such selfish pleasures are often impossible in your daily life or when you go on holiday with other people. 

If you really want to please yourself, look no further: the only way to fully satisfy yourself is to listen to yourself, and only yourself.
Tailor-made suits you so well.
7. Take time to breathe
We talked about egoism - but a solo journey goes far beyond an individualistic concept.
In fact, there is nothing selfish about wanting to go on a solo holiday, because there is nothing selfish about wanting to refocus on yourself when you feel the need to do so.
Why not discovering
which travel friend is made for you
to know if you're made to travel alone ?
I am still convinced that holidays are necessary, because they allow you to break the rhythm and to catch your breath between two frantic sprints. Inhaling and exhaling: a real breath of fresh air when you spend your time running between work, family and needs. 

It is more than natural, in my opinion, to want to take advantage of this break to reconnect with yourself.
What do I really want? What are my dreams? Where am I going? 

These questions are central to our lives because they ultimately define the meaning we want to give to this (short) life. 

They are legitimate questions that we can only ask ourselves when we have the time to. 

Going on a solo holiday is a true opportunity to breathe and to refocus on yourself, on what you want, on what you aspire to. "Just me, myself and I" is not selfish or narcissistic - it is a need to evolve in the right direction.
At the end of the day, there is only one person with whom you spend all your days: yourself.

Let's make the effort to listen to ourselves.
So, at this stage of your reading, doesn't the open sea seem more exciting? And the mountains more attractive?
Wanting to go on a solo holiday is a confusing adventure for everyone.
But you'd also be surprised to find that it's when you get lost that you find yourself again.
So it's not a question of being fearless: it is about accepting this fear of the unknown to take the plunge while you still have the chance to.
To better reassure you, there are many
travel advice for a solo trip
to know.
Being a woman has never been easy, it's a fact. However, today it has become possible for us to travel alone, to be independent and to be as strong as we are.
So there's no need for me to give you one more good reason to go on a solo holiday : let yourself be carried away by your desires, for all the times you've been prevented from fulfilling them. 

I don't know about you, but personally, I have always had the impression that a little girl who once dreamed of adventure, of great epics, of beautiful explorations, slumbered within me. 

You have often tried to make those around you proud of yourself: so, if you are like me, make this little girl proud of what she has become, too.
ADVENTURE
|

LIFESTYLE

|

TRAVEL

The editorial team:

Whether you are an avid traveller or a first-time adventurer, all NomadSister editors are passionate about travel. They share their advice and experiences with the desire to give you wings!

Who are we?